TV Plans
Starting at

 $24.95/mo
Get all the channels you want with our Grand Premium. An extensive list of over 100 channels, including the 80 most watched channels in Canada, for an incredibly low price. Enjoy all your favourite Sports, News, Movies, Family, and Lifestyle channels. Don't miss out – treat yourself to the big TV experience.
Our most popular TV package, Premium Basic, with all the channels you need, just got better with Premium Flex! Choose from one of four variations: Premium Classic, Premium Sports, Premium Family or Premium Lifestyle. TV your way.
Enjoy all the major Canadian and US networks, plus a great lineup of popular specialty channels you want to watch. Get all your favourite network shows, sports, news and entertainment, as well as TSN, YTV and others, in a very affordable TV package. Missing a channel you want? Add it "à la carte" in UChoose or in a theme pack.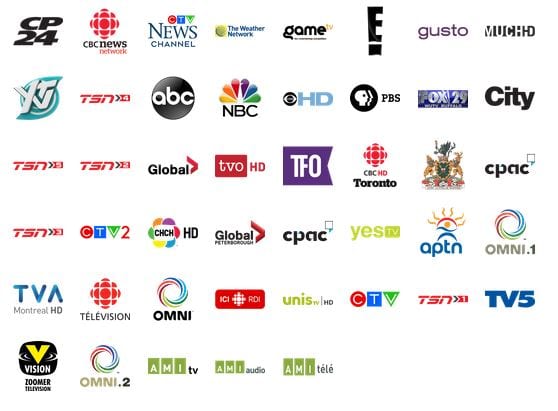 Want the best value "starter" TV package in Canada? Get TheSkinny, which includes all major Canadian and US networks and more. Build your own TV lineup with our theme packs or "à la carte" UChoose channels.
To enjoy Coextro's innovative TV service, you will need Coextro internet. Choose among our great unlimited internet plans at low, low prices. Local channels are available only in their respective regions.
Now you can enjoy all your favourite TV channels and Coextro TV with your Roku device. 
Coextro's advanced TV service works with your Roku player or Roku TV. Watch live sports, news and all the hit shows, along with your other favourite Roku content.
Access to all TV channels
The VBoxMax runs on Android TV 9.0, Google's operating system specifically designed for televisions and streaming.

Allows for up to 3o hours of recording time (expandable). 
Easy to use, fast, quick access to apps in Google Play, and Google Assistant enabled. Please note that the Netflix app does not work on this device. 
Access to all TV channels
* Please note that one Roku or Vbox is required for each TV.
* Coextro is an authorized TV transmission agent of Vmedia.
Get The Speeds You Want at the Price You Want
TV & Internet & phone